This shop has been compensated by Collective Bias, Inc. and its advertiser. All opinions are mine alone. #BigLotsHome #CollectiveBias
With the holiday season coming up, I thought it would be fun to do a post all about what to have ready when you have guest coming! We love having family and friends come stay with us, and so I try to have everything ready for last minute guest and wanted to share with you my favorite tips and ideas!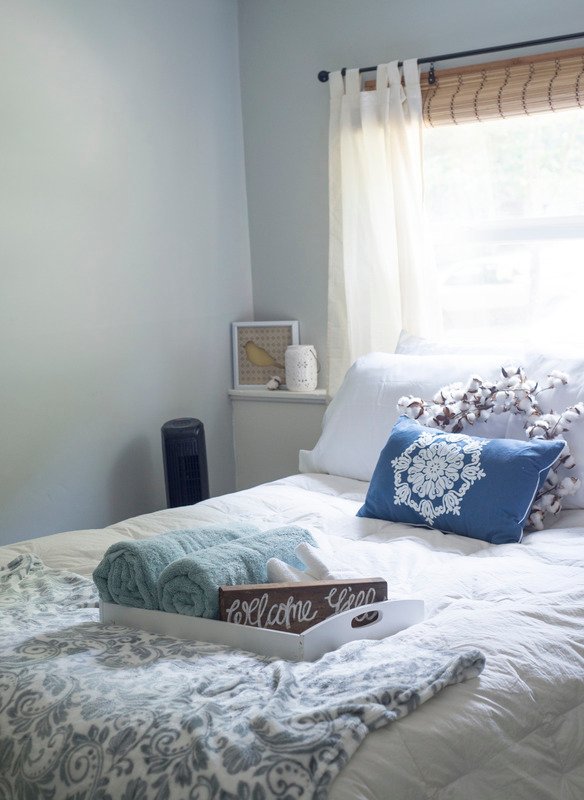 Almost everything that you will see in this post is from Big Lots. They have everything you need to get ready for your holiday guest at great prices. It makes for an easy one stop shop to grab everything below and get it home, and to make it even easier, you can shop straight from the image above, just hover over what you love!
1. Sheets. Nothing makes your guest feel more comfortable in your home than having a comfy bed with nice sheets. I like to make sure I always have fresh, nice sheets for my guest to sleep on and an extra set folded up nicely in the closet just in case. I think sheets are a pretty standard thing in most homes, so you shouldn't need any kind of options, just make sure they fit the bed!
2. Pillows. It seems like the one thing you can never have enough of when guest stay is pillows. I have a niece who is a self-described "pillow addict" and so I have to have at least three pillows on hand just for her. It's smart to have an assortment of types of pillows because everyone seems to like a different kind, for example, my Mom likes really flat pillows, while I like really big, firm pillows. I made sure while I was at Big Lots to grab a Serta Cool & Comfy and and a Serta Super Firm so my guest could have options. Even throw pillows can be used as sleeping pillows for little guest.
Almost every time we have guest, they are usually bringing little kids that will be sleeping on the floor or on air mattresses, so I try to place a nice stack of pillows with extra sheets and bedding in the guest bedroom closet and let them know that they are in there, that way everyone has a pillow and bedding, which brings me to my next must-have…
3. Extra Bedding. Like I just said, you want everyone to have bedding, and you want everyone to be warm, I try to have an extra throw blanket on the bed in case my guest get cold, and a few extra blankets in the closet for extra guest. If you're like me, you can't sleep without a blanket, so I try to make sure everyone has one! If you don't have an air mattress or pack and play for little ones, most of them are completely happy to sleep on a couple of folded up blankets on the floor as well. This damask throw that I got at Big Lots is soooo soft. Anyone would be happy to sleep on or under it.

4. Curtains! When your guest are coming from around the country and they're sleep schedule is way off, they'll thank you for having good curtains to block out the sun, especially if they have kids with them. Big Lots has a huge assortment of black out curtains in all kinds of colors and patterns. I bought these linen-esque curtains because I like that the length matched the ledge that is in our guest room. These café-style curtain rods are really popular right now, but I had such a hard time choosing between those and the other cute styles they had at Big Lots.
Curtains are a must-have in any guest room.
5. Blinds. This goes hand and hand with the one before. You basically want your guest to have the option of making it as dark as possible whenever they need it. I love the bamboo blinds that I got at Big Lots. The light curtains with bamboo blinds is really in right now and I think they look great together. I also loved that these were SO easy to install.
6. Slow-Cooker. One of my favorite things about having family in town is eating all of our family favorites, but with so much going on, sometimes it's hard to get much time in the kitchen. I use my slow cooker all the time when guest are in town to save time. I'll put everything on the cook in the morning, and then we have the whole day to go have fun, and come home to a great meal. It gives me one less thing to stress about, and a lot more time making memories with family.
7. Towels. When my guest arrive, I love to have the bed made up pretty with a tray on it, and the towels rolled up nice and pretty. When you leave them in a tray, your guest can simply pick it up and move it to another surface when they are ready for bed, rather than throwing their clean towels over a chair. Make sure that you have enough towels for every guest to have at least one bath towel plus at least one washcloth. I like having pretty coordinating colors as well. Luckily, Big lots has a great selection of plush towels, washcloths, hand towels, and rugs that all coordinate!

8. A Fan! I know I can't be the only person out there who can't sleep without a fan, even if it's –10 degrees outside. Having a fan in your guest room can cut down on noise and make a nice breeze, plus there are tons of people like me who CANNOT sleep without a fan- so have one ready for guest! I have gotten so used to traveling to houses that don't have fans, that I bring my own sometimes. Your guest will thank you if you have one ready!
That's it! 8 great things that you do not want to forget before you guest come into town.
I also wanted to share another update that I did in our guest bedroom- a DIY Jute Cord Cover. Our guest room doesn't have any overhead lighting, so I have added a cute lantern style light that swags down the wall. The cord is really utilitarian looking, and it was kind of ugly, so I wanted to do something about it. I saw a jute cord cover for sale at a store, and figured I could make my own a lot cheaper, and it turned out great! Here's what you need:
Supplies: 1/2 inch thick Jute Cord (however many feet of cord that you want to cover PLUS a foot or two just in case), and electrical tape.

Step 1- Take your jute cord (which I bought by the foot from a home improvement store), and separate the stands. Mine was made of three strands which was enough to cover my cord, if your cord is really thick, you might want to buy twice as much Jute cord so you can have extra.
Step 2- Start with one strand. Tape it to the start of the cord, and wrap it around. Because of the twist in the cord,  it will fall naturally in a certain place, but try and keep them as tight together as you can without gaping from the cord. Continue all the way down, and then tape in place.
Step 3- Repeat with the second strand, wrapping it right next to the first strand.
Step 4- Repeat and try to fill in any gaps. Tape nicely at the end, and trim any excess jute cord away. Done! Hang your light back up and it's beautiful!

Doesn't that look so much better? I hope you and your guest love it- I think it adds just the perfect extra touch of comfort and coziness, instead of a big black cord handing down the wall.
So, do any of you have any plans for holiday guest coming? What are your tips for getting ready for company? If you're missing anything from the list, make sure you head to Big Lots for a one-stop shop for everything you need! Their assortment of home goods, including furniture is great!