This shop has been compensated by Collective Bias, Inc. and its advertiser. All opinions are mine alone. #UltimatePitStop #CollectiveBias
I don't know about your families, but my kids love playing outside, and they love playing with cars. We've been getting excited for the new Cars 3 movie to come out on June 16th, and since it's summer and the kids love to be outside, I thought it would be fun to come up with some backyard car-related activities for our boys. They always play so well together when they are outside and get worn out twice as fast, which means this Momma can get a much needed nap! Here are the five summer activities we're doing to enjoy cars outside:
1. Turn your slide into a racetrack!- My kids love playgrounds, and they love toy cars. What better way to keep them playing happily than to turn our playset into a racetrack?
The only supplies you need are some foam tape (I used foam window insulation tape) and a pair of scissors! The foam tape usually comes in 10ft rolls, so just make sure you buy enough for your slide. It's only a couple bucks per roll, so it doesn't cost too much to add additional lanes; I wanted to have three lanes, so I bought two rolls. Having my kids play happily together is always the goal, so I wanted each of my boys had their own lane so they could participate and so more cars could race at one time!
Clean your slide so the tape will stick (caveat- this tape pulls off great if you just leave it on for an hour or so, but if you leave it on all afternoon in the heat, it will stick permanently. You can still pull it back up, but it will leave behind some gunk which you can get off with goo gone or a paint scraper), and then start at the top of the slide and slowly stick down the foam tape until you get to the end, create lanes for the cars. The window tapes foam is thick enough that when the cars hit into it, they will stay in their own lanes and keep racing.
That's all you need for your kiddos to have hours of fun racing their cars, running down to get them, climbing back up and racing again!  It only take about two minutes to set up but has already provided hours of fun for my boys. We just used Amazon Prime to get the Disney•Pixar Cars 3 Crazy 8 Crashers Smash & Crash Derby Playset from the new Disney•Pixar's Cars 3 movie, and as soon as we opened it, they were out there on the playground running Lightning McQueen and Mrs. Fritter down our racetrack and into the derby. I love seeing them use their imaginations and come up with different "scenarios" for the cars. I also like the track came with two different ways to play which spring boarded Sawyer into thinking of more ways for Lightning McQueen to enter and try and escape the derby. I love toys that encourage my kids to make their own stories and think outside the box. It always makes for longer play and more fun for everyone. Hover over the image to shop this toy and more Disney•Pixar's Cars 3 merchandise!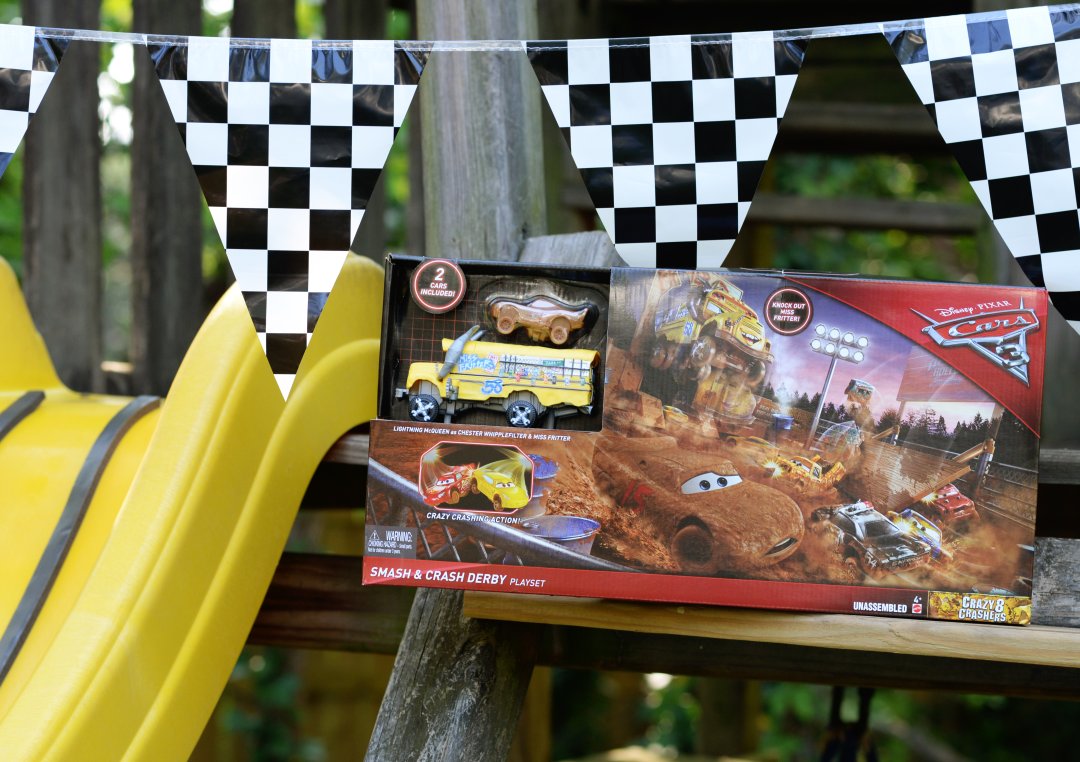 © 2017 Disney/Pixar
The cars from this set are so fun because they wiggle and bump into everything as they drive which had the boys laughing lots!

I did decide to get my cutting machine out really quick and made  "START" and "FINISH" decals just to add to the "race track" feel. We're also working on Sawyer learning to read, so I try to incorporate words into as much of our day as I can. One of my favorite things about them racing their cars on the playground is they have to run up and down that ladder over and over to retrieve their cars, and that is a great way to wear active kiddos out!
2. Make a backyard city- I've seen some awesome tutorials on Pinterest using 2X4s that are painted black with small white stripes  in the middle to make roads all over the yard. Kids get to rearrange them and build cities. We love to keep our Amazon Prime boxes and save them for making cities like this. We go outside with finger paint and they can decorate the boxes to look like sky scrapers and then put them along the roads as towns and buildings. It's a great way to encourage creativity and keep them busy!
3. Backyard "Carwash"-

On those hot days of summer, one fun outdoor activity is to make a "car wash" for the kids to ride bikes and cars through. Simply hook your hose up to a sprinkler on the back porch and let the kids ride through. My kids love it when we do this, especially if I put out buckets of soapy water and sponges to clean them with. We like to add to this playtime by getting chalk sticks and getting them a little wet, then the kids can draw all over the cars and then go clean it off in the carwash. They love washing off all the chalk and then starting over again.
4. Have a "demolition derby" after it rains!-The hardest days of summer for a Mom are always the rainy ones. The kids get restless inside, and so do I. Just like the Disney•Pixar's Cars 3 Smash & Crash Derby playset, you can let your kids get out and get muddy and have a pretend demolition derby. Have some towels and clean clothes at the ready, and send them outside with some cars that you don't mind getting dirty, and let them have a demolition derby with them! It might be a good idea to have this one followed by #3.
Another fun idea to go along with the derby is to let your kids "fix" their cars afterwards. Amazon has a really cool Just Play Cars 3 Mack Mobile Tool toy that comes with kids tools that you could let them pretend to repair their cars afterwards. My boys love to fix things and pretend to work on things like Dad, so I know any kid would love that toy.
5. Backyard "Drive-in" Movie-When the days is done and your kids are ready to slow down a little, invite some friends over and have everyone bring their favorite bike or car to sit in and watch a move on a projector in the backyard. You can even provide cardboard boxes and let kids decorate them to look like cars to sit in during the movie if they want to. We got a projector for Christmas and the boys have been waiting for it to warm up so we could watch a movie. Amazon has some really cute Disney•Pixar's Cars 3 bedding that you could have for when the evening starts to cool off and if they fall asleep in their cars after doing car activities all day, you can just wrap them up and put them to bed in it. They'll have sweet dreams of Lightening McQueen.
There are so many great ways to get outside and get your kiddos playing and get excited for the new Disney•Pixar's Cars 3 movie. We already bought gift cards to take the kids when it comes out on Friday and they are so excited. Don't forget to head to Amazon too as your pit stop for all things Disney•Pixar's Cars 3! We've been eyeing some of the cute Disney•Pixar's Cars 3 apparel  for our kiddos to wear to the movie, and they even have a LEGO Juniors Thunder Hollow Crazy 8 Race Building Kit that would be perfect for any fan of the movies, plus it can all come in two days with Amazon Prime!
Are you planning on heading out to see the new Disney•Pixar's Cars 3 movie on Friday? Let me know who you're bringing with you! Your kiddos? Husband?